Join one of Denmark's fastest growing company 🧶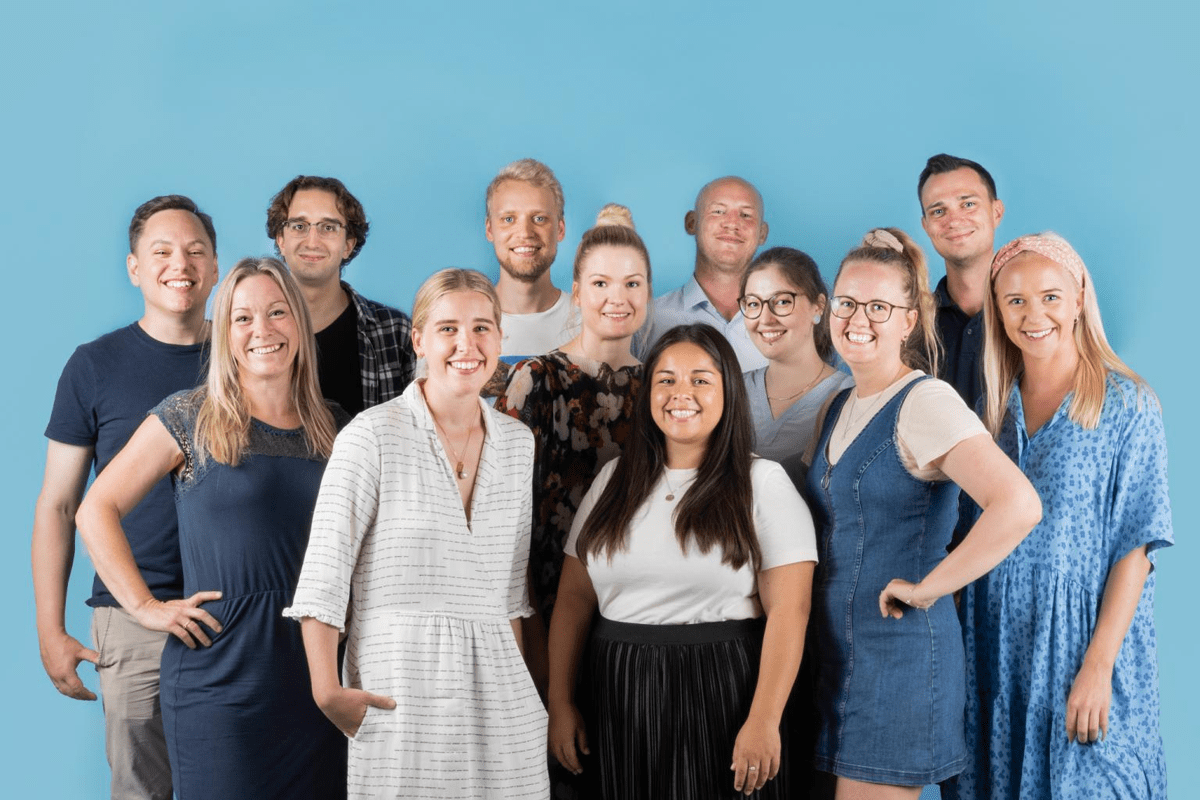 Join us on our journey 🚀
Our growth journey started back in 2016 and consisted of four young guys and a pallet of yarn. That developed into an adventure which so far has led us to the prestigious Børsen Gazelle award as Denmark's fastest growing company in 2020! 🥇 The recipe behind all of this is about us having fun and delivering results - often in that order!

Working at Hobbii should be exciting, fun and meaningful. We achieve this through our talented and passionate team, all of whom are convinced that together we are better.
FAQ
We are always looking for new colleagues! Stay up to date on future jobs, or tell us why you would like to work with us by clicking here to connect! Here you can also subscribe to positions.

So funny that you ask! Each job advertisement states when you can expect a response. But, never more than a week! It depends a bit on the type of job, and we process applications continuously. Sometimes it takes time to find the right match. Contact us in the chat if you think it has been a long time!

In Hobbii, our recruitment process is pretty straight-forward in order not to drag you through countless steps, tests and talks! The process varies depending on the role. However, all job opportunities in Hobbii start with a casual video call just to get to know you better.

GDPR is the abbreviation for General Data Protection Regulation, also referred to as the Privacy Regulation. This is a regulation, or a new privacy law if you will, which was adopted in the EU and entered into force on 25 May 2018.

The whole point of this new law is to protect personal data and the processing of these in the EU. That is, to check that personal information about me and you are collected and taken care of in a secure way, and at the same time give users more rights when it comes to our own information.

As a member of both the EEA and Schengen, the law also applies to Norway. This means that all Norwegian companies have to comply with the new privacy regulation, regardless of size, as long as they receive and process information that can be linked to individuals. Be it customers, stakeholders, or own employees.
A few words from our employees
It's all about the people here. Obviously the dynamics are different between HQ and the warehouse and I think we're pretty good at making sure everyone is onboard and feels an important part of the company. There's a great amount of trust, which is shown when it comes to the offered flexibility.

Jesper Petersen

Warehouse Developer

I personally feel that Hobbii is the best place to develop a career with great opportunities and new challenges. I get a chance to learn new things in a friendly atmosphere and easily balance my personal life and professional life.

Prital Patel

QA Engineer

I love my job - not least because of the yarn we have everywhere! And I mean literally everywhere! Look for yourself:

Mia Louw Håkonsen

Data Scientist

The best part of working here is definitely my colleagues and the general working culture. I've been working at many different places in Denmark but here everyone's supportive and particularly leadership has been so kind.

Saswati Chatterjee

Warehouse Employee

One thing that Hobbii's playful culture has taught me, is that when we quit taking ourselves so damn seriously and begin to have fun, magic happens!

Anna Diekelmann

People & Culture Consultant
Why join Hobbii?
Flexibility & fun activities
Follow us on social media ⤵
About Hobbii
Hobbii.com is the one-stop shop for yarn lovers around the world! We have all you need for your next knitting or crocheting project. We are located in beautiful Copenhagen, Denmark where all products are designed and all orders are packed and shipped from.

Already working at Hobbii?
Let's recruit together and find your next colleague.